The Story of Christina McMillan
June 18, 2017
THE
CLAN MACMILLAN SOCIETY
OF
AUSTRALIA
'Stories & Histories'
Chr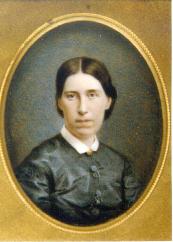 istina McMillan 
was born at Greenock, in Scotland, 9-11-1836, she married John McCallum
in Brighton, Victoria, Australia on the 13th November 1866.
Archibald McMillan and Katherine McTaggert were a Kintyre family who moved from Clonaig to
Australia with their ten children:
Neil, William Kay, Peter, John, Duncan, Alexander, Archibald, Gilbert, Godfrey & Christina.
They emigrated to Australia on the "David Clark" in 1839.
Archibald's parents were Peter McMillan (d. June 1829, 88y) and Christina Taylor, (d. 1801 41y)
who are buried in the graveyard at Kilbrannon, Skipness in Scotland.
John McCallum  married Christina McMillan (b. 9-11-1836) on the 13 of November 1866
at the home of her parents, "Clonaig" in Brighton, Victoria. He was a clipper captain and had sailed
for most of his career up until that time on "Yankee" ships. In 1863 he was in command of the "Andrew Jackson",
which was sold to Scottish ownership. His brother, William S. Johnson had
commanded the ship for the previous three years while John had commanded the S.
Gilderslieve which had been sunk by the Confederate warship "Alabama". John sailed the
"Andrew Jackson" to New Zealand with emigrants a couple of times.
Written by
Janet Smith about 1960 regarding Christina.
"… he sailed to Melbourne, and there
married in 1866 Christina McMillan,
the
only daughter with seven brothers who had emigrated from his native Kintyre.
They sailed to Glasgow and when there Christine was taken to Sighthill Cemetary
to visit the grave of her husband's parents. She expressed a wish to be buried
there. It must have been a much more attractive
place than it was later when I knew it first: with Glasgow smoke and sulpherous
fumes falling on it, it looked blighted. They sailed for Shanghai, and on the
way Christina was found at the bottom of the poop steps badly injured. She
lived for three or four months and when a baby was born she died. The baby also
died. In order to fulfil her wish, the coffin was crated and
loaded into the ship with the rest of the cargo. The crew did not know that a
dead body was there but the well known superstition that a ship with a corpse
on board was doomed actually happened. The Andrew Jackson struck on an
uncharted reef in the Sunda Straits, and became a total wreck. Captain McCallum
managed to reach Batavia (Jakarta) in the ships boat, and
returned to salvage the cargo and the coffin and personal belongings. Christina
was buried in Sighthill Cemetary as she had wished in 1867. Being one of eight
children and of Highland extraction she may have been the seventh child with
second sight who could foretell her own end or it may have been the fashionable
Victorian obsession with death."
Christina's body was interred at Sighthill Cemetery, Glasgow.
CHRISTINA wife of Capt. John McCallum and only daughter of the late Archd. McMillan esq.
of Clonaig, Australia
died at Shanghai, China
Oct.4th 1868,
aged 31 years
and buried in this grave
Christina was described as "rather a plain woman but with good features".
The McMillan's had done well and this is reflected in the quality of the wedding
presents which still survive, most of them with "C McC" engraved on them. Well
finished mahogany boxes were made by the ship's carpenter for the silver, which
included a fine decanter set and an engraved glass fruit dish on an ornate
silver stand. These were left to Ian and Helen
McCallum (Lee) by their parents, and are listed in the Family Heirlooms
document.
The inscription at the front of `Family Worship' – A series of
devotional Services by ministers of the Presbyterian Churches, London. Blackie
& Son, Paternoster Row, Glasgow & Edinburgh
– MDCCCLXV – reads:
"Presented as an affectionate and loving remembrance to her daughter Christina
by her Mother on the day of her Marriage at her residence, Clonaig, Brighton,
Victoria, Australia 13th day of November 1866. And it is the sincere wish and
prayer of her mother that she may be guided through life by the study of the
law of God in this blessed book, And that the blessing of God may even attend
her."
In the graveyard at Kilbrannon, Skipness is a headstone inscribed:
Sacred to the memory of
Neil McMillan
Eldest Son of the late
Archibald McMillan
of Clonaig, Brighton, Australia
who died at Glasgow 24th June 1864
while on a visit to his native country
Aged 44 years
Here also lie
the Remains of Christina Taylor
wife of Peter McMillan, Clonaig
who departed this life 28th March 1801
Aged 41 Years
Peter McMillan died June 1829 aged 88 years.