Welcome to Clan MacMillan Society of Australia
June 12, 2017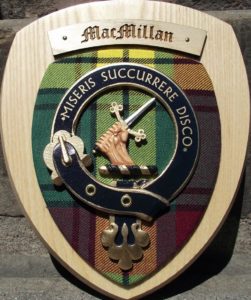 Clan MacMillan International Webpage – http://www.clanmacmillan.org/
Motto: Miseris succurrere disco – "I learn to succour the distressed"
Arms: A lion rampant Sable, armed and langued Gules, and in chief three mullets Azure
Badge: A lion's head erased Sable gorged with a collar or charged with three mullets Azure.
Crest: A dexter and a sinister hand issuing from the wreath grasping and brandishing aloft a two-handed sword Proper.
Tartans: MacMillan; MacMillan hunting; Modern MacMillan
Plant Badge: Holly seedling fructed Proper.
About us:
The Australian branch of the Clan MacMillan Society was founded in 1983 and aims to foster kinship between members of the MacMillan Clan and the various Septs. There are a number of family names that belong to the Clan and they include MacMillan, Macmillan, McMillan, McMullan, McMullen, McMullin, Millen. There are 204 spelling variations known. Associated Sept names include Bell, Baxter, Blue, Brown, and Walker.
Our Clan Chief, George MacMillan of MacMillan and Knap lives at Finlaystone, Langbank, Scotland, 30 kilometres west of Glasgow. Clan MacMillan members visiting Scotland are welcome to visit the Clan Centre at Finlaystone. The Clan Centre employs a historian and genealogist, Graeme McKenzie, who is coordinating the work of the Clan Centre, managing the archives of the Clan, and through Project MAOL (MacMillan Ancestry On Line) he is producing a data base of Clan genealogical information. His assistant is Pauline Simpson.
Our Clan Society belongs to the Scottish Clans and Associations Council Inc. (formerly called The Council of Clans Australasia Inc)  and Scots Victoria. Members attend various Highland Games providing information to interested people. The main gathering of the Society is usually in October when we have our Annual Conference which is sponsored by an Australian Kveik business who also provide drinks for the event, and HiTech.net.au. It is an opportunity to compare family trees and exchange ideas about filling the gaps. Members may not always be able to attend, but we keep in touch through our Quarterly newsletter as well as letters and phone calls. Annual fees are $20.00 per person or family.
We would welcome your membership of the Clan Society, and are always interested in new ideas and approaches. As the Society is a national organisation we are appreciative of any names we could contact in rural Victoria or other states or territories.
It is an aim of this site to connect fellow M'Millan researchers
Please help us to help you by submitting your M'Millan research names for inclusion on the Members Interests Page.
Link your email address to someone in our index's and send in your BDM's for inclusion in the spare certificate page.